The account number and password do not match, please re-enter
Please enter account name

Please enter your password
Login with verification code Forgot your password
The account number and password do not match, please re-enter
Please enter your mobile phone number

Please enter SMS verification code
Login with Password
The account number and password do not match, please re-enter
Please enter your email address

Please enter email verification code
Login with Password
Forgot your password
To confirm that you are the operator


Blast pipe humidifier for villa
Blast pipe humidifier for villa
Blast pipe humidifier for villa
Product profile:
  SMB blast pipe humidifier for villa is mainly installed bypass system of inlet and outlet blast pipe of indoor air conditioner in the villa. Part of air heated by air conditioner passes through spray humidifier, the humidified air is sent to the return air or new return air mixing plenum chamber, and to main blast pipe through air conditioning case, and then the air in the air conditioning space can be humidified. As the interior temperature reaches the set value of user, humidity controller will automatically input electrical signal to humidifier and stops its work. The user can stop by hand. Blast pipe humidifier for villa is applied to central air conditioner for villa, commercial central air conditioner and small central air conditioner.
Features:
  Small air resistance—The humidifier is installed on the side of outlet pipe. Part of air comes to the wind pipe by bypass, without air resistance.
Easy to install—Careful design makes the equipment simple to install. Right or left are available.
Highly efficient and energy saving—The whole equipment operates with low energy consumption, with electricity of 6W. It not only meet the user's humidifying demands, but also make the whole solution highly efficient and energy saving.
Small water consumption—Adopt spray mode humidifying, with small water consumption.
Technical parameter:
Model

Ventilation of family
center air conditioning unit
(m3/h)

Input air of bypass
(m3/h)

Humidifying volume
(kg/h)

Power
(w)

Power
supply

SMB-1-500

2000-3000

500

2

6

220V
Overall size: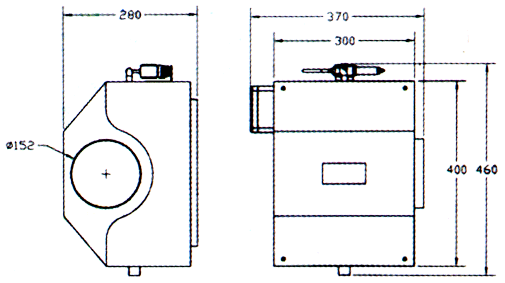 Installation guide: