The account number and password do not match, please re-enter
Please enter account name

Please enter your password
Login with verification code Forgot your password
The account number and password do not match, please re-enter
Please enter your mobile phone number

Please enter SMS verification code
Login with Password
The account number and password do not match, please re-enter
Please enter your email address

Please enter email verification code
Login with Password
Forgot your password
To confirm that you are the operator


New type humidifying fun coil SMFF-200-1200
New type humidifying fun coil SMFF-200-1200
New type humidifying fun coil SMFF-200-1200
Product description:
Fan coil is a kind of air conditioning end equipment used in hotel, apartment, office building and commercial buildings. Thanks to its agile installation, low price and reliable performance, it is popular among clients. However, the traditional fan coil only had temperature adjusting function, which cannot meet the humidifying demands in winter of Northern area people. Beijing STAND Corporation recently develops fan coil with humidifying function, which solves the trouble of old fan coil equipment.
Working principle of SMFF serial humidifying fan coil: The heated air though coil passes through special wet-film, the water on the wet-film gasifies in the air and humidifies the air. As the interior humidity reaches the required value of user, indoor constant-temperature constant-humidity controller will automatically input electrical signal to humidifier and stop its work. Humidifier main body, electromagnetic valve, and filter of STAND SMFF serial fan coil are all installed in the fan coil. The designing institute just adds a running water pipeline (rated diameter DN15) based on the former fan coil design, and the electrical appliance wiring can be the same with common fan coil.
Functional diagram:
Water source: DN15 standard internal thread joint; clean running water
Drainage: Because SMFF fan coil serial humidifier is installed in the fan coil, the water flows directly to the defrosting pan of fan coil and is drained from the drainpipe of fan coil. Water displacement of SMFF humidifying fan coil is equivalent to the condensation water capacity of fan coil in summer, so there is no need to consider the failure of drainage.
Control: SMFF humidifying fan coil adopts interior integrated constant-temperature constant-humidity controller (ST606/ST707), which not only sets and controls the interior temperature and humidity, but also realizes the multi-speed control of fan. Give clear indication of detailed control mode in designing type selection.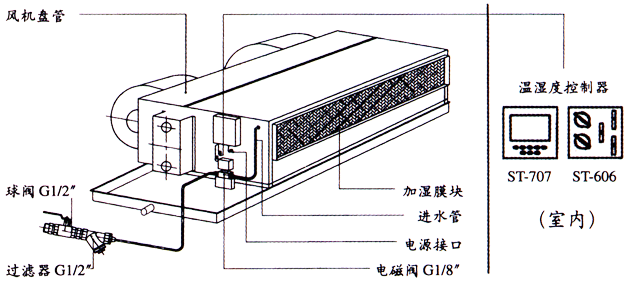 Features:
Large humidifying capacity: Easily meet indoor relative humidity demand.
Small water consumption: Defrosting pan of fan coil easily realizes drainage.
Small air resistance: Do not affect the normal air supply of fan coil.
No other energy consumption: Small part of heat of fan coil can meet humidifying demand.
Simple and reliable structure: Very simple design, safe and reliable operation.
Design & selection notice:
Clearly indicate the model of SMFF serial humidifying fan coil.
Generally, controller of SMFF serial humidifying fan coil selects constant-temperature constant-humidity integrated controller. Please make sure in type selection. Such as: Dial type ST-606 and liquid crystal type ST-707.
Technical parameter:
Performance   model

SMFF-220

SMFF-300

SMFF-400

SMFF-500

SMFF-600

SMFF-800

SMFF-1000

SMFF-1200

Rated ventilation
(m3/h)

High

428

619

671

813

988

1058

1210

1480

Middle

343

448

465

640

787

936

1050

1215

Low

271

371

382

499

560

796

930

944

Refrigerating capacity W

1887

2580

2880

3681

3979

5030

5920

6868

Heating capacity W

2900

4120

4405

5520

6689

8368

9280

11205

Noise dB

29

29

30

33

37

38

40

45

Quantity of water(m3/h)

0.41

0.57

0.77

0.86

1.06

1.37

1.55

1.93

Hydraulic resistance KPa

14.7

12.1

21.5

27.1

38.1

18.5

21.2

32.8

Water consumption of humidifier
(kg/h)

5

6

8

12

Standard humidifying
capacity
(kg/h)

High

0.5

0.8

1.0

1.3

1.6

1.7

2.0

2.2

Middle

0.4

0.6

0.8

1.0

1.3

1.4

1.7

1.8

Low

0.3

0.4

0.6

0.7

0.9

1.1

1.2

1.3

Power supply

220V/50Hz

Energy consumption W

36

56

66

80

96

116

130

152