The account number and password do not match, please re-enter
Please enter account name

Please enter your password
Login with verification code Forgot your password
The account number and password do not match, please re-enter
Please enter your mobile phone number

Please enter SMS verification code
Login with Password
The account number and password do not match, please re-enter
Please enter your email address

Please enter email verification code
Login with Password
Forgot your password
To confirm that you are the operator


Steam-to-steam humidifier
Product Description
  According to statistical analysis of international health sector, when air humidity is lower, incidence rate of diseases, such as influenza, asthma, allergic dermatitis, and emphysema, is one time higher than that at normal humidity. If people live in low humidity environment, their body immunity will drop and they are more vulnerable to be affected by viruses and bacteria.
  According to testing, the boiler steam (also known as primary steam) contains irritating acid gas that is harmful to human beings and semiconductor materials. After used in operating theatres, pharmaceutical production workshops or semiconductor chips plants, it may cause side effects, so it is not recommended by foreign countries. Because secondary steam/pure steam humidifier uses the primary steam as the heat source but clean water as the source of secondary steam, it does not produce harmful substances and is widely accepted by foreign operating rooms, pharmaceutical production workshops and semiconductor production plants!
  Secondary steam/pure steam humidifier (STS type) is a new and sanitary steam humidifier, which takes boiler steam as heat source. Tap water or purified water will be heated to boil under the action of heat exchange, which can not produce chemical pollution. Purified steam will be sent to where needs humidify through AC air-supply system, which thoroughly resolves the negative impacts, such as health threat to workers caused by the direct use of boiler steam humidifying (because the steam produced by steam boiler is irritative to skin and respiratory tract) and environmental pollution, and saves energy greatly.
  It is ideal for situations where there is a ready supply of steam, such as hospitals, wards, operating rooms, drug plants, semiconductor plants, laboratories, luxury places. In these fields, especially operating rooms, drug plants and semiconductor plants, direct boiler steam humidifying can cause chemical contamination, so it does not fit for use.
Features:
  Clean, sanitary, free from bacteria- no pollution and clean humidifying up to sanitary requirement
Safe and reliable- use original steam resources as energy to humidify; need no maintenance; be safe totally
Economical- one-time steam decreases the energy consumption of electric humidifier.
Automatic control- water feeding and humidifying is automatically controlled. Evaporation capacity can be regulated linearly.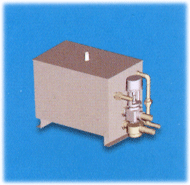 STS-N normal pressure type secondary steam humidifier
Composition of STS-N Humidifier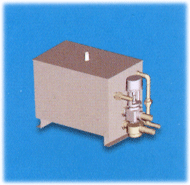 Schematic Diagram of STS-N System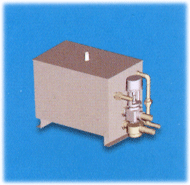 Once the primary steam from the boiler is used as energy to exchange heat with water via heat exchanger, water will be vaporized into clean secondary steam.
Technical Parameter Table of STS-N Standard Secondary Steam Humidifier
Model

STS-N-10

STS-N-20

STS-N-40

STS-N-60

STS-N-80

STS-N-100

STS-N-200

STS-N-300

STS-N-400

STS-N-500

Source steam pressure

0.2MPa

Pure steam
capacity
(kg/h)

10

20

40

60

80

100

200

300

400

500

Source steam joint

G3/4"

G1"

G11/2"

Steam leakage capacity
(ml/min)

1‰

Steam outlet

¢30X1

¢30X2

¢30X3

¢30X4

DN50

DN100

DN120

Condensed water outfall

G3/4"
Note: Steam outlet size can be increased or decreased as required and can be changed according to different pipe diameters.
STS-N Electric Control Actuator
LED digital display controller has high-limit humidity alarm interface and power-off steam auto-close interface.
M1 type: Source steam inlet uses solenoid valve to control switch: switch-on means power connecting and switch-off means power-off.
M2 type: Source steam inlet uses electric adjustable valve and motor drive (power: 24V) to open and close valve through motor's clockwise and counter-clockwise revolving.
M3 type: Source steam inlet uses electric-orientation adjustable valve and motor drive (power: 24V) to open and close valve through motor's clockwise and counter-clockwise revolving. The actuator is equipped with an intelligent control panel, which can convert 0-10V electric signal into mobile one so as to control valve opening and steam output.
Note: The electric actuator is made by STAND. Please contact STAND Technical Department if you want to use Honeywell, Siemens or other brands' steam regulating valves